"Are the kids eating enough vegetables?" "Did they have too much sugar today?" "When did 'breakfast dessert' become a thing in this house?"
I'm Christina Liva Diiorio, founder and CEO of Yay Lunch and mom of 3 kids, Wolf (6), Athena (4) and Lucia (18-months). I started this business when Wolf was entering school and I realized there were not great solutions for food when he was away from home. Fast forward a few years, my co-founder Derek and I are on a mission to provide broad access to nutritious food to kids away from home and help parents with this daily chore. With my years of experience in the food industry as an editor and passion for nutrition (and 3 kids!), you would think I have parenting handled on the food front. But honestly, I find myself asking the same questions as most parents.
And what I think they all boil down to is this, really: Am I a good parent? Am I doing this right? Will these kids turn out OK? Will I turn out OK?
You're Doing Great
The answer, without letting myself off the hook, is that if we as parents are asking these questions, we are probably on the right track. Everyone has different styles when it comes to parenting. If you think generationally, the differences become even starker! Some of my friends often joke about being a '70's parents when letting their kid eat Cheetos for breakfast or stopping at McDonald's on a road trip. Grandparents often roll their eyes at what they call "helicopter parenting" or (a new one to me) "lawnmower parenting" designated to parents who are excessively involved in their children's lives. So, how can we be so involved and yet still feel like there are gaps we struggle to fill on a daily basis?
It Takes A Village To Raise A Child.
The best answer I have is that we are NOT meant to raise kids alone. Rather, similar to the generations before us and in other cultures, we are meant to raise our children with the helping hand of various members within our family and community playing different but equally important roles in our children's lives. Yet many of us, especially through these last couple of pandemic years, are instead raising them in siloed structures that require the primary parent or caregiver to fill an inordinate amount of roles: parent, driver, educator, playmate, nutritionist, cook, project manager, therapist - the list goes on.
My personal new year's resolution is to lean into the village around me for support, knowledge, guidance and camaraderie - to leverage the partners we have in this journey that are developing our children and supporting families in their own ways. These roles include caretakers, spouses, siblings, grandparents, teachers, neighbors, friends, farmers, foodmakers and more.
Don't Forget To Look Around For Inspiration.
And guess what? I already got started. While on a playdate with my son at a friend's house the other week, I noticed a chore chart on the wall. Sounds pretty standard, but it's something I had been thinking about but was not sure how to implement. As you can imagine, home life can be some what chaotic at times with 3 young ones. I asked my friend for her advice on how she built and is implementing hers with her 7-year-old son.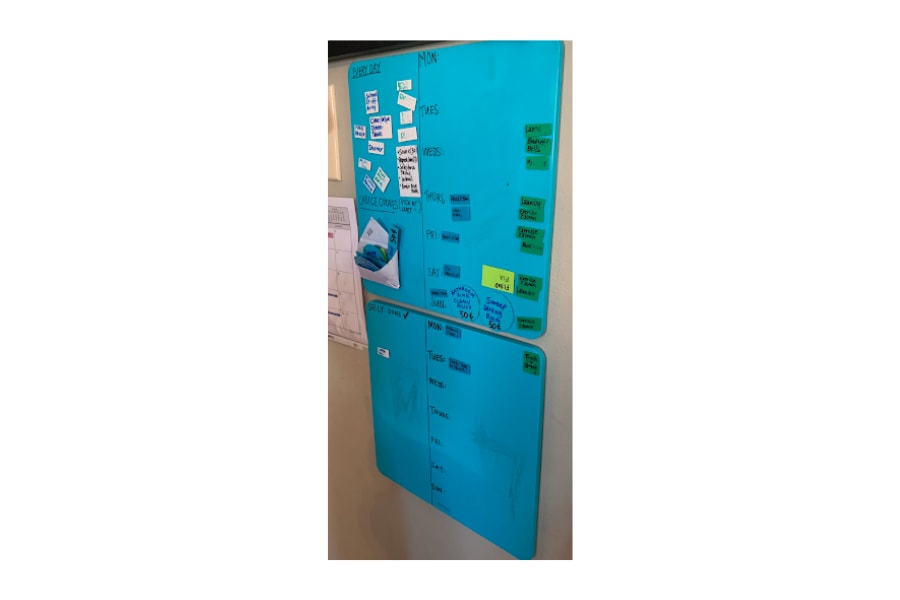 A few things I love about this particular chore chart:
It's collaborative: the chart shows moms' chores too. Clearly not exhaustive, but good for kids to see that they are not in this alone.

It's DIY! My friend made this with pretty low effort and cost - I'll likely need one quick trip to Staples to make my own.

It's entrepreneurial: there are the chores that must be done everyday, like making your bed and brushing your teeth, but if your kid is feeling particularly ambitious, they can venture into the paid chore route to build out that piggy bank.

It's actually empowering: the chores on here are ones that are aiding the everyday family structure. I feel that I can personally underestimate what my kids can do at their age, and his chart seems to say, "Yes you can!" to the child, giving them a real sense of responsibility and satisfaction.
Small Steps, Big Impact.
I realize that I have just put another chore on my giant chore chart of life (to build this chore chart) but I am looking forward to implementing this in our house, and thanking the friend that gave me the idea and inspiration to get started.
Thank you all for being on this journey with me as part of the Yay Community!
Love,
Christina